Kajeet Provides Insight into Student Online Usage Outside the Classroom
MCLEAN, VA — Kajeet, the only wireless service provider dedicated solely to providing safe and affordable mobile connectivity for students, announced today the top 10 websites visited by students in its school district partners for educational purposes last month. Kajeet provides safe, affordable mobile broadband to 26 school districts around the country. As schools invest more money and resources to bring technology into the classroom, teachers are discovering many students do not have access to online textbooks, apps, cloud documents, websites and teachers once they leave school.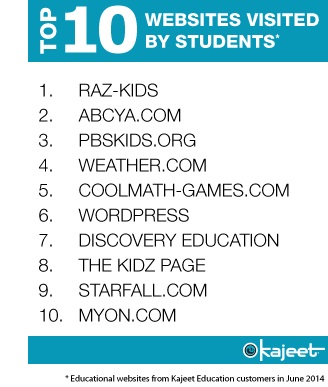 Kajeet is providing the solution to ensure disconnected students have a level playing field to improve academic success. Schools issue Kajeet SmartSpot® hotspot devices — compatible with any mobile device — which includes customizable filtered Internet access with insightful analytics to keep students focused on school work and provide educational connectivity.
In addition to providing Internet access to students at home or on-the-go, the Kajeet SmartSpot provides analytics and usage reports so educators can see what sites their students are using most often, as well as to draw actionable conclusions to improve student work habits and academic success.
"To succeed today, students need access to the vast educational facility that is the Internet. It is a realm that allows students to direct their own learning and gain skills needed to compete," said Kajeet CEO and Founder Daniel Neal. "As the classroom paradigm shifts, staying connected to resources and people outside of the classroom becomes critical, and it is important for educators to understand how students are using the Internet and the tools it supports for school purposes."
One of the key benefits of the Kajeet SmartSpot solution is that it allows districts and schools to fully customize and filter the websites students can visit, as well as the times of day or night they deem appropriate for student use. Teachers and administrators can manage access hours and filter out non-educational content, thereby keeping students on-task and controlling costs. As part of the Kajeet solution, teachers and administrators receive reports with learning analytics to help improve student achievement.
About Kajeet
Kajeet, the only wireless service provider dedicated solely to providing safe, mobile connectivity for students, is bridging the digital divide in school districts across the country. Kajeet provides a safe, affordable mobile broadband solution that connects economically disadvantaged students to the resources they need to complete required assignments and projects outside of school. The Kajeet SmartSpot®, a portable Mi-Fi hotspot, combined with the innovative Sentinel® cloud portal, enables administrators and teachers to provide CIPA-compliant, customizable filtered Internet access that keeps students focused on school work and without worry of data abuse. Kajeet products and services, which operates on both the Sprint and Verizon network, are protected by the following issued U.S. patents 8,929,857; 8,918,080; 8,774,755; 8,774,754; 8,755,768; 8,731,517; 8,725,109; 8,712,371; 8,706,079; 8,667,559; 8,644,796; 8,639,216; 8,634,803; 8,634,802; 8,634,801; 8,630,612; 8,611,885; 8,600,348; 8,594,619; 8,588,735; 8,285,249; 8,078,140; 7,945,238; 7,899,438; 7,881,697. Other patents are pending.